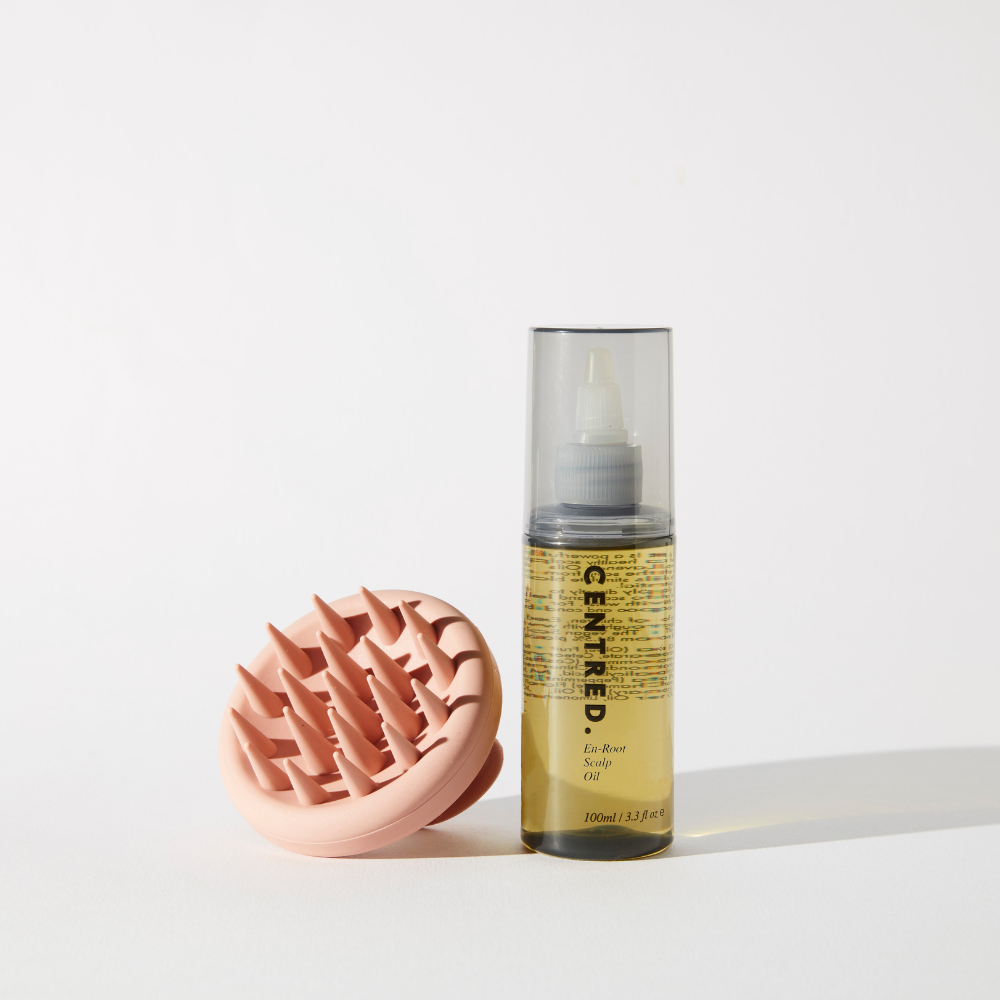 Scalp Ritual Bundle
Harnessing the science of Trichology for cultivating optimum scalp health. This bundle will help you to create a relaxing scalp care ritual with the benefits of potent essential oils, herbal extracts and antioxidants as well as the therapeutic benefits of scalp massage.
Stimulates healthy hair growth by increasing blood flow and circulation to hair follicles whilst detoxifying the scalp to remove build-up and dead skin.
ROSEMARY leaf extract

Studies have shown Rosemary's ability to help reduce shedding, increase hair thickness and stimualte new growth

Salicylic acid

Gently and effectively exfoliates dead skin cells helping to unclog hair follicles and prevent buildup

Castor Oil

Rich in ricinoleic acid, which is known to promote hair growth by increasing blood circulation to the scalp and stimulating hair follicles.
Supports hair growth 
Soothes scalp irritation 
Clears pores & removes buildup
Non-greasy formula 
Pre-wash treatment 
All hair and scalp types
Free from sulphates & Silicones 
Key actives help with Dandruff and Psoriasis 
Multi award winning bestseller
En Root Scalp Oil - Made from 88.5% plant-based ingredients:
INGREDIENTS: Olea Europaea (Olive) Fruit Oil, Cannabis Sativa Seed Oil, Polyglyceryl-4 Oleate, Cetearyl Ethylhexanoate, Argania Spinosa Kernel Oil, Cocos Nucifera (Coconut) Oil, Ricinus Communis (Castor) Seed Oil, Simmondsia Chinensis (Jojoba) Seed Oil, Menthone Glycerin Acetal, Anthemis Nobilis Flower Oil, Juniperus Virginiana Wood Oil, Salicylic Acid, Mentha Piperita (Peppermint) Oil, Lavandula Angustifolia Flower Oil, Rosmarinus Officinalis (Rosemary) Leaf Oil,Linalool, Melaleuca Alternifolia (Tea Tree) Leaf Oil, Limonene, Geraniol, Coumarin.
Squishy Scalp Massager
100 % Soft silicone
A Detoxifying oil-based cleanser with Salicylic Acid. Our award winning pre wash treatment and hero product Is truly one of a kind. The unique formula magically transforms from an oil to a milk when rinsed with water, allowing you to soothe and nourish scalp irritation, leaving no residue when rinsed with water. A potent blend including Tea-Tree and Rosemary Oil helps to clear pores and exfoliate dead skin as well as other impurities that can often lead to Dandruff whilst also promoting healthy new hair growth. Say goodbye to your dry scalp (and the flakes) and hello to a healthy scalp and stronger hair. It really does do it all.
UK Standard (Royal Mail 48 Hour): £3.5
UK Next day delivery (Royal Mail 24 Hour): £4.95

Free UK standard delivery on all orders over £30
EFFECTIVE GROWTH TREATMENT FOR THINNING HAIR
Noticing the signs of thinning hair or an itchy scalp? We've got you! Our best selling En-Root Scalp Oil pre-wash treatment nourishes and revitalises your scalp promoting healthy hair growth. The unique non-greasy formula is designed specifically to target and stimulate hair follicles whilst detoxifying the scalp, removing dead skin, cleansing pores and preventing buildup.
How to get the best results
Use once or twice a week for best results : Increase the effectiveness by incorporating scalp massage using the Squishy Scalp Massager to aid in relaxation and maximise hair growth potential.
Optimal Scalp Care
Scalp Ritual - How-to
Create a scalp ritual with this bundle designed to promote a happy scalp and fuller hair growth.
How Does It Work?
Dubbed by Glamour "a facial for your scalp" our bestselling En-Root Scalp Oil nourishes and revitalises, promoting healthy hair growth. Infused with a potent blend of essential oils, herbal extracts and antioxidants, this non-greasy formula soothes dryness and combats environmental stressors whilst stimulating hair follicles for optimal scalp and hair health. Created by experts En-root combines nature's most powerful ingredients with the science of trichology for achieving real results.
Rosemary oil
Increases blood circulation helping to stimulate hair folicles, increase thickness and reduce shedding
Salicylic Acid
Gently exfoliates dead skin cells, unclogging pores and preventing buildup
Tea Tree oil
Helps tp detoxify the scalp with antibacterial, anti-fungal and anti-Inflammatory properties
Check out the full collection
The complete inside out solution for hair and scalp health. Our award winning collection combines nature's most potent ingredients with the science of Trichology for promoting healthy hair growth, nourishing the scalp and improving the overall health and appearance of hair from root to tip.